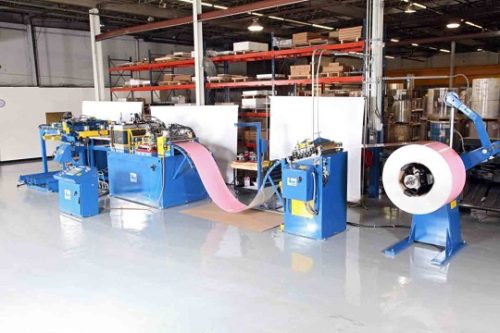 At Lynch Metals, we have a customized blanking line that was engineered and designed to our specifications. This custom blanking line features the most advanced cutting technology available and an extensive inventory of tooling that allows us to produce custom sized blanks quickly. This recent investment increases our ability to serve the signage market as we can provide signage blanks with an array of different corner radii and holes. The edge quality, flatness, and precision tolerances of the blanks we produce are far superior to competitors' due to the tooling we invested in.
Although the signage market has been a large part of our blanking business, the ability to provide tight width and length tolerances lends itself to a wide array of other industries as well. Automotive, appliance, aerospace, and telecommunication customers can all benefit from the increased productivity that ordering blanks versus stock sheet sizes provides. The cost savings that ordering cut-to-size blanks provides often far outweighs the increased scrap generation. Material handling, the storage space required, and the extent of processing are all greatly reduced when material is brought in already cut to the desired size.
We are not only known for our quality and efficiency, but our lead times are among the fastest in the industry. To further expedite turnaround, custom stocking programs are available to ensure a supply of custom material is readily available. For additional information regarding our custom blanking capabilities, please contact us directly.
Additional Information
NJ EQUIPMENT CAPACITY AND CAPABILITY
BLANKING LINE
| ID | MAX. OD | MIN. GAUGE | MAX. GAUGE | MIN. WIDTH | MAX. WIDTH | MAX WEIGHT |
| --- | --- | --- | --- | --- | --- | --- |
| 16″ | 60″ | 0.025 | 0.08 | 6″ | 24″ | 5000 LBS |
| 20″ | 60″ | 0.025 | 0.08 | 6″ | 24″ | 5000 LBS |
Radius Corner
Holes On Corner
MIN LENGTH
MAX. LENGTH
LENGTH TOLERANCES
SQUARE TOLERANCES
12″
48″
0.01
 +/- .032
0.5 (1/2)
5/16 hole –  .500 from center of hole to corner
0.75 (3/4)
5/16 hole – 1.00 from center of hole to corner
1.00 (1″)
5/16 hole  – 1.00 from Center of hole to corner
1.5   (1-1/2)
5/16 hole –  1.500 fro Center of hole to corner
Licence Plate Blanks
**INCOMING COILS EXCEEDING 5000 LBS MUST BE ON 16″ ID