***SUBJECT TO AVAILABILITY***
Custom aluminum components require the highest-quality material composition as well as the knowledge of the best aluminum alloy types to use in a given application. Lynch Metals has nearly 30 years of experience that enables us to fabricate aluminum materials to a wide variety of client specifications.
Our expertise and investment in the best people, equipment, and materials allow us to provide the top-notch custom-shaped extrusions in the aluminum field. One of the metals available in our inventory is aluminum alloy 4047.
What Is Aluminum Alloy 4047?
A number of different metals can be alloyed with aluminum to enhance different aspects of its performance. Manufacturers regularly create alloys that contain up to 15% of metals ranging from:
Iron
Silicon
Copper
Magnesium
Manganese
Zinc
Aluminum alloys come in several different forms, each designated by a four-digit number. The first of the four digits is the alloy's general classification, the second digit signifies any special modifications to the alloy materials, and the last two digits act as a label for its specific content.
4xxx-series aluminum tends to incorporate varying levels of silicon, which allows these alloys to have a lower melting point without becoming more brittle. This silicon content also minimizes shrinkage and produces a smoother finish than other alloys in its class.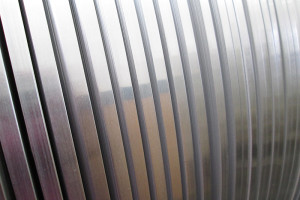 Other traits possessed by aluminum 4047 include:
Excellent resistance to corrosion
Lower melting point and narrow freezing range
Superior fluidity for reducing weld leakage
Good thermal and electrical conductivity
Lightweight durability
These qualities make 4047 aluminum a go-to choice for use in the welding industry. 4047 is also used to build a variety of automotive and aerospace parts, which value it for its high-strength, lightweight capabilities. Other products built using aluminum alloy 4047 include:
Window frames
Leak-tight joints
Microwave-integrated circuit cladding
Lynch Metals Supplies Aluminum 4047 Sheets and Coil Slitting
Lynch Metals is the leading global supplier of aluminum 4047 products such as:
We supply 4047 aluminum to the automotive and aerospace manufacturers, who use it as cladding alloy or filler material. Lynch has the capacity to cut, shear, or slit 4047 aluminum to length in sheet or coil form according to your specifications.
Other capabilities include:
Slitting thicknesses from 0.001" to 0.125"
Cut-to-length sheet thicknesses from 0.020" to 0.125"
Specialized, nonferrous material slitters that provide slitting widths from 0.200" to 48"
Burr-free uniform coils that are tight throughout
Because materials in transit commonly experience foil and fin damage, Lynch takes special care to package our finished products using foam inserts within wooden boxes.
We carry a broad inventory of 4047 master coil, providing the most comprehensive selection of gauges, including:
001
0015
002
003
005
010
015
020
032
063
125
Lynch also supplies specialized thicknesses to customers who commit to an annual usage of 8,000–10,000 lbs.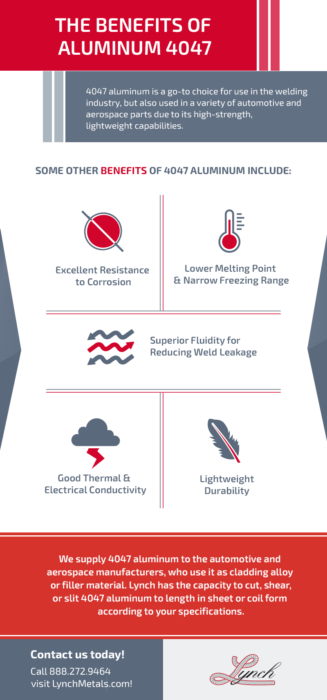 Aluminum Products at Your Specifications
Whether you require 1 or 10,000 lbs. of aluminum alloy 4047, Lynch Metals has you covered. We're the premier global supplier of 4047 fin, foil, coil, and sheet product, delivering what you need, when you need it.
Contact us to learn how Lynch Metals can design high-quality aluminum materials for your next project.