Many of our customers at Lynch Metals purchase products that are custom cut or finished, making customized stocking programs an important aspect of the supply chain. Since we work with an extensive number of the most reputable mills in the world, we have the purchasing power to ensure that the necessary raw material is always available.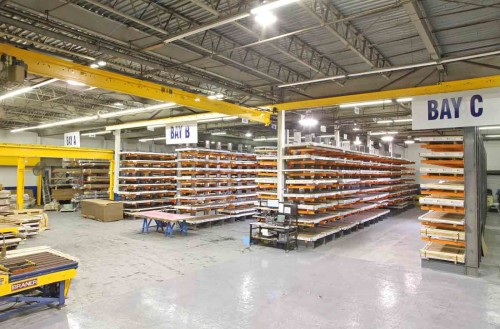 Aside from simply ensuring a reliable source of mill finished material, aluminum or stainless steel stock can be leveled, slit, finished, and packaged in house and stored in a ready-to-ship state for release. Once a customer relationship has been established, we will keep extra stock of custom material in house for emergency situations or Just-In-Time deliveries.
This custom stocking service also applies to our aluminum extrusion sourcing program. With the knowledge that a supply of material is readily available for shipping, customers are not forced to store excessive quantities on their manufacturing floor, saving valuable space and lower inventory carrying costs.
For products that are prone to bending or scuffing, special packaging such as paper interleaving, vinyl masking, or foam packaging can be used to protect the material during transport and delivery. We are both ISO 9001:2008 and AS9100C certified for our strict adherence to our established quality management program.
These certifications represent the most distinguished quality certifications in the industry and set us apart from many metal processing and distribution centers. Deliveries are typically made within 48 hours after order placement.
For additional information regarding our custom stocking programs, please contact us directly.