With a strong customer base in the automotive heat transfer market, we have invested in a Kampf high speed slitting line that allows us to process precision aluminum coils with unprecedented speed. Using the Kampf High Speed Fin Slitter, aluminum, stainless steel, and nickel materials can be processed in thicknesses from 0.002" to 0.024" with speeds up to 1,600 feet per minute.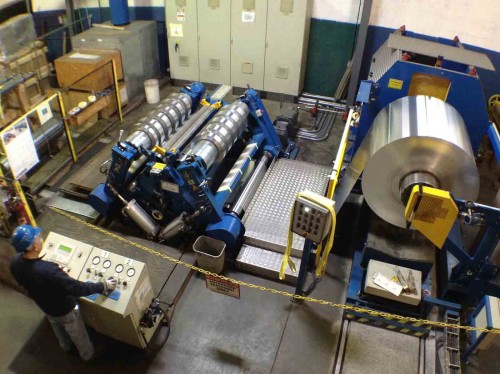 Kampf has earned a worldwide reputation for the precision of their high speed converting equipment and has been an industry leader in the light gauge slit coil market. While many of the producing mills utilize Kampf slitters, Lynch is the only distributor in North America to make this large investment.
Our Kampf slitter can accept master coils with a maximum weight of 10,000 pounds and maximum width of 49.50". Coils can be slit with a width as narrow as 0.625", while holding precision slitting tolerances as tight as +/- 0.002" and wound onto cores with diameters of 3", 6", 10", 12" or 16".
This degree of versatility allows us to produce precision coils for a wide range of requirements. A duplex rewinder is employed to produce large, tight, uniform coils with a maximum diameter of 42".
For customers who directly purchase their own material, toll processing is also available. However, due to the volume of material we process, it is often worth leveraging our purchasing power to lower overall material costs. We can work with customers to determine the most cost effective solution that fits their given application.
For additional information about the capabilities and precision of our Kampf High Speed Fin Slitter, please contact us directly.
KAMPF
IN
ID
MAX. OD
MIN. GAUGE
MAX. GAUGE
WIDTH
MAX WEIGHT
6″
60″
0.002
0.024
49″
10,000 LBS
10″
60″
0.002
0.024
49″
10,000 LBS
16″
60″
0.002
0.024
49″
10,000 LBS
**.016 – .024 INCOMING WIDTH ARE LIMIT TO 36″ WIDE **
OUT
GAUGE
ID
MAX. OD
WIDTH
MAX. # OF CUT
MIN. SCRAP REQUIRE
MAX. COIL WEIGHT
.003-.024
3″
41″
.625″-48″
40
0.50
1000 LBS
.003-.024
6″
41″
.625″-48″
40
0.50
5000 LBS
.003-.024
10″
41″
.625″-48″
40
0.50
5000 LBS
.003-.024
12″
41″
 .625″-48″
40
0.50
5000 LBS
.003-.024
16″
41″
.625″-48″
40
0.50
5000 LBS
*** .016 – .024 MAXIMUM # OF CUTS ARE LIMITED 15 ***
*** WIDTH TOLERANCES +/- .003 ***