At Lynch Metals, we use a custom designed Goebel Slitter to process light gauge foil products in all tempers with "O" temper being the dominant product. Our Goebel Slitter is capable of cutting gauges between 0.001" and 0.012" with a maximum master coil width of 52" and maximum coil weight of 2,000 pounds.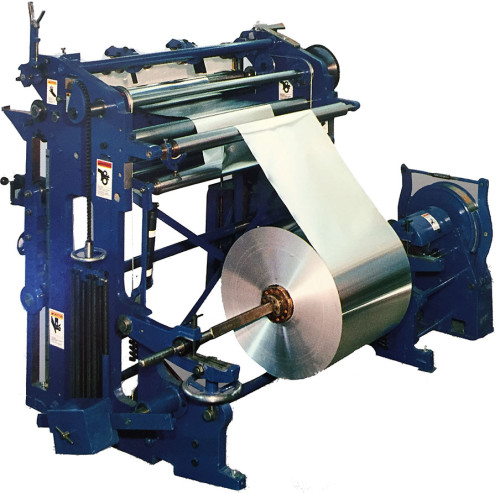 Typically, the material that is processed on our Goebel Slitter is used in lower volume products, especially for the manufacturing of fins used in heat transfer applications. Aluminum Alloys typically slit on this slitter are 6951-O, 4047, 3003, 1100, 1145 and 6061-O. Custom coils can be slit to widths as narrow as 0.500″ while holding tolerances as tight as +/- 0.005", and wound on 3", 6" or 10" diameter cores.
When processing thin gauge "O" temper aluminum coils, special procedures must be implemented to insure a burr free product. We also pay special attention to securely package our slit coil so you receive it in a damage free condition.
We go far beyond the duties of a standard metal distributor to become a true partner to our customers. This means offering expert advice regarding material selection and processing options, as well as providing superior service by using only the most reputable mills and ensuring that all orders are delivered on time.
Custom stocking programs can also be tailored to the needs of the customer to ensure a stock of slit material is readily available for emergency Just-In-Time shipping situations. This commitment to our customers is backed by our ISO 9001:2008 and AS9001C certifications which represent the highest standards for quality in the industry.
For additional information about our Goebel Slitter or any of our converting capabilities, please contact us directly.
| Goebel Slitter "Quick Facts" | NJ Facility | CA Facility |
| --- | --- | --- |
| Gauges | .001" to .012" | .001" to .012" |
| Temper | All tempers including "O" annealed temper | All tempers including "O" annealed temper |
| Maximum Master Width | 37.500" | 52.0"/td> |
| Narrowest Cut | .625" (+/- .005") | .500" (+/- .005") |
| Inside Diameters | 3", 6", and 10" | 3", 6", and 10" |
| Maximum Outside Diameter | 35" | 36.0" |
| Maximum Master Coil Weight | 2,000 lbs | 2,000 lbs |
Designed specifically for slitting light gauge foil products for fin applications in temper or annealed conditions.