Our processing equipment at Lynch Metals includes two Ruesch Slitters that were specifically designed by Ruesch to our specifications. These slitters possess Ruesch's patented "Slip Tech" rewind mandrels that provide tight, uniform slit coils.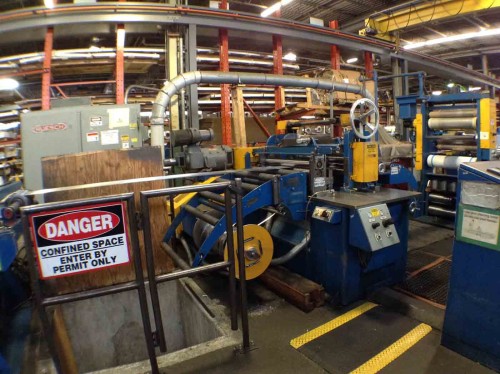 Any temper of aluminum, including annealed "O" temper coils, in thicknesses between 0.004" and 0.080" can be cut to coil widths as narrow as .200" to produce a finished coil with a maximum outer diameter of up to 58". Precision width tolerances as tight as +/- 0.002" can be held to ensure all coils are slit to exact custom specifications.
Numerous inner diameters (3", 6", 10", 12", 16", and 20") for the master coil and the slit coil can be accommodated, based on the requirements of the customer's machinery. This versatility is important to provide customers in a vast array of industries with the coil sizes that best fit their given application.
As anyone who has purchased metal coils knows, not all slitting processes and converting equipment are created equal. There are numerous material defects that can be introduced during the slitting process, which can result in scrapping the entire coil.
The first step in producing a premium quality coil is selecting material from a reputable mill. We use the best quality materials to ensure that everything our customers receive produces top quality parts.
The next step in manufacturing quality coils is proper setup of the converting equipment and the actual processing of the material. Using computer controlled setup software and shimless tooling; we are able to create precision coils that are free of edge burrs, camber, and wave.
For additional information about the capabilities of our Ruesch slitting equipment, please contact us directly.
RUESCH
| ID | MAX. OD | MIN. GAUGE | MAX. GAUGE | WIDTH | MAX WEIGHT |
| --- | --- | --- | --- | --- | --- |
| 3″ | 40″ | 0.004 | 0.08 | 18.5″ | 2500 LBS |
| 6″ | 40″ | 0.004 | 0.08 | 18.5″ | 2500 LBS |
| 10″ | 40″ | 0.004 | 0.08 | 18.5″ | 2500 LBS |
| 16″ | 40″ | 0.004 | 0.08 | 18.5″ | 5000 LBS |
| 20″ | 40″ | 0.004 | 0.08 | 18.5″ | 5000 LBS |
GAUGE
ID
MAX. OD
WIDTH
MAX. # OF CUT
MIN. SCRAP REQUIRE
MAX. COIL WEIGHT
.004-.080
3″
40″
.200-18″
20
0.25
2500 LBS
.004-.080
6″
40″
.200-18″
20
0.25
2500 LBS
.004-.080
16″
40″
.200-18″
20
0.25
2500 LBS
**  # OF CUTS ARE LIMIT BY GAUGE**
WIDTH TOLERANCES +/- .003