***SUBJECT TO AVAILABILITY***
The use of aluminum has steadily increased in manufacturing since the early 1900s, but the past 30 years has seen explosive growth in various alloys, including 6951 aluminum. In 1991, Lynch Metals established the only source for brazing aluminum in North America. Since our founding, we have grown into a premier supplier and distributor of 6951 aluminum alloys.
The aerospace industry depends on us to supply fin stock and brazing sheet for their various applications. We provide the most extensive inventory of this aluminum stock in North America. Among the most important products we provide to the aerospace industry is 6951 aluminum.
What Is Aluminum 6951?
Aluminum 6951 requires some background into the four-digit designation used to classify various grades of aluminum alloys. The first digit in the series designates the major alloying element, and all alloys within that series will include a higher percentage of that element. The second digit indicates a modification or variation of an alloy in the class, and the last two digits designate the specific alloy within the series. This information allows users to identify the exact properties of each aluminum grade.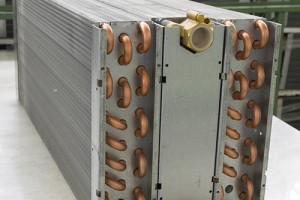 Aluminum 6951 belongs to the 6000 series alloy class, which means its major alloy includes magnesium and silicon. Its modification includes 97.2% aluminum with magnesium, silicon, and iron among its major alloys with the addition of copper, manganese, and zinc. This alloy adds strength to increase sag resistance and makes it heat treatable (metal becomes stronger through heating and cooling).
Benefits of Aluminum Alloys
Some common advantages of aluminum are its heat-to-weight ratio, corrosion resistance, heat and electrical conducting, non-magnetic, and easy to recycle properties. Other benefits include:
Seamless extrusion fabrication
Joinable
Easy fabrication with excellent machinability and plasticity
Easy to form complex shapes
Can be anodized to provide protected finish
Specifically, the added strength of the 6951 aluminum alloy allows manufacturers to reduce the gauge, and subsequently the weight of the components they produce. The properties of aluminum 6951 make it the ideal material for heat transfer units produced for the aerospace industry.
Applications of 6951 Aluminum
The use of 6951 aluminum in the aerospace industry includes two main applications: brazing and the construction of honeycomb panels.
Brazing
Brazing allows for the joining of two different metal sheets or components. In contrast to welding, which creates a bond through fusion, brazing creates a metallurgical bond between the surfaces of the bonded metals and the bonding material. An advantage of brazing is its capacity to join metals of two different types to each other and to non-metals like tungsten carbide, alumina, graphite, and diamond.
Honeycomb Panels
The construction of honeycomb panels creates the capacity for sheet material to maintain significant strength. A honeycomb panel typically includes skin or outer layers called the facing bonded on each side of a honeycomb core using adhesive. Due to its strength-to-weight ratio, aluminum 6951 is a common core material used in creating honeycomb panels.
Aluminum 6951 at Lynch Metals
We are a major supplier of a wide range of 6951 aluminum stock in a variety of different forms. Lynch Metals supplies the largest inventory of aluminum 6951 coil in the world, and it's available in wide widths and a multitude of O-temper gauges from .003 to .015. We slit coil to the precise specifications of our customers within three to five days in our ISO 9001:2015 and AS9100:2016 certified facilities.
Our top-notch slitting equipment produces a burr-free, tight, and uniform coil that is ready to use on arrival. In addition, your coil is packaged for shipping in a manner that prevents any damage during transport and handling.
Aluminum 6951 provides a range of solutions to many industrial applications, especially in the aerospace industry. As a premier supplier and distributor of 6951 aluminum in North America, Lynch Metals maintains a vast inventory to meet the needs of our clients.
Contact us to learn more or request a quote!