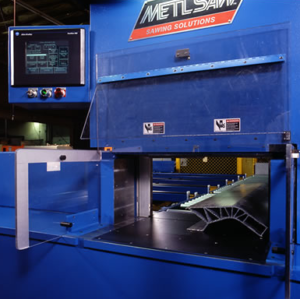 At Lynch Metals, we take full advantage of the latest technological advances to deliver precision metal sawing services to our customers. We source our machines from MetlSaw to ensure that our customers get the most precise cuts possible on their aluminum and metal components.
With these machines, we are able to cut stock or custom extrusions to nearly any desired length. This, in turn, helps to make the customer's facility run more efficiently by accelerating the processing and handling operations.
MetlSaw
MetlSaw has been using cutting-edge technology to produce high-quality manufacturing sawing equipment since 1975. They have invented some of the most innovative sawing equipment on the market that delivers a high level of precision and accuracy. This company is constantly staying on top of the ever-growing advancements in technology to ensure that their machines and equipment are able to stay ahead of the competition.
MetlSaw produces a wide range of sawing equipment with state-of-the-art features such as:
8″, 10″ or 12″ saw height options
Right or left-hand loading
Automated loading
2′, 3′, or 4′ cutting window
Push through back gauge with a clamping tool
Conveyor belts for a more efficient unloading
Kastelan-covered rollers
Programmable touchscreen display with customizable language options
Ethernet connectivity options
MetlSaw cutting tools can cut over 1,100 pieces an hour and are specifically designed for advanced durability and efficiency, making them perfect for large-scale operations that specialize in producing various metal parts and components. By producing automated cutting machines that load and cut the metal with precision, MetlSaw equipment helps increase productivity and cut down on labor costs.
Precision Sawing Services by Lynch Metals
When you choose Lynch Metals to be your metal cutting service provider, you are getting a team of professionals with the knowledge to provide you optimal solutions for your projects. Our state-of-the-art technology, such as our MetlSaw cutting tools, helps to ensure that the job gets done with expert accuracy
Our sawing machines are capable of cutting both ferrous and non-ferrous materials, which allows us to provide cutting solutions to a wide range of industries. Our precision sawing machines can cut a variety of customizable shapes in a variety of sizes and ensure that each cut is performed with the highest level of accuracy. Cuts from our MetlSaw equipment also leave burr-free edges, eliminating the need for secondary finishing processes to smooth edges.
Some of the other benefits you will see if you choose Lynch Metals includes:
Reduced man hours
Increased productivity
Less material waste
No unnecessary expenses
Lower return rates
Our equipment is specially designed to accommodate myriad cutting requirements. We are able to cut metals that are up to 24 inches wide, 8 inches thick, and 192 inches long. No job is too big or complex for our cutting machines.
Lynch Metals is ISO 9001:2015 Certified. Our staff has a high level of expertise when it comes to cutting various types of metals. Our full team of  technicians can help guide your project and find the right solution for your project. We work diligently with our customers and take the time to understand the needs of your projects, no matter the industry or application.
If you have any questions about our metal sawing equipment or services, please feel free to contact us.
| Metal Saw Precision Sawing "Quick Facts" | NJ Faciltiy |
| --- | --- |
| Maximum Width | 24.000" |
| Maximum Thickness | 8.000" |
| Maximum Length | 192.000" |
| Tolerances on Length | +/- .002" |
| Tolerances on Squareness | +/- .005" |
We can cut custom shapes to size with burr free edges.