***SUBJECT TO AVAILABILITY***
At Lynch Metals, we carry a wide array of aluminum and stainless steel alloys that are available in stock sizes or custom sizes that can be cut to length, slit, or blanked as needed. Our team works with virtually every domestic mill to procure the highest quality materials at the best prices. In stock soft aluminum alloys include 2002, 6061, 6063, 6463, 6005, and 6105. Hard alloy options are 5052, 2014, 2024, and 7075.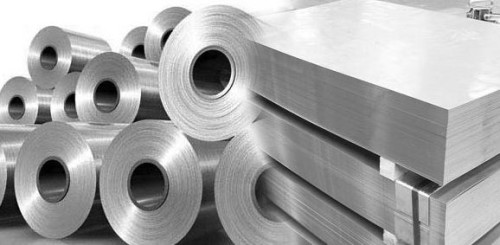 Aluminum alloys are available in a wide range of tempers from annealed ("O" temper) to thermally treated ("T" family of tempers) options, and can be finished to customer specifications. Anodized finishes are available in clear, gold, bronze, champagne, or brite dip, while painted finish options include powder coat, PPG Duranar, or polyester wet paint finishes in a variety of colors. We also carry the most commonly requested stainless steel alloys including 304, 316, and 430 in 2B and polished finishes.
Many of our customers such as those in the appliance and home fixture industry, require exceptional blemish-free surfaces with no scratches or corrosion. We are ISO 9001:2008 and AS9100:2009 certified, and as such, are adept at working in accordance with the most stringent quality standards in the industry. In addition to appliances and home fixtures, common uses for our products include rodding, flashing and numerous metal stamping applications.
We sell material in very small sample sizes for customer convenience, but have the purchasing and warehousing ability to handle extremely large volume jobs as well. With processing and distribution centers located on both coasts, lead times are typically very short.
For additional information about our selection of aluminum and stainless steel alloys, please contact us directly.