At Lynch Metals, we provide both channel letter coil and flat sheet stock in mill finish or painted options for the signage industry.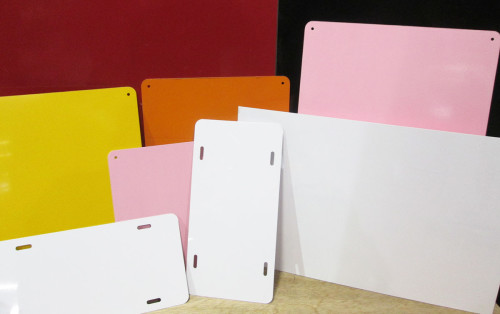 Channel Letter Coil
Channel letter coil is utilized to manufacture the three-dimensional lettering of interior and exterior signage. The appeal of channel letters for your storefront signage is that they allow your business to be immediately recognizable. The channel letter coil is pre-cut from aluminum sheets and used as a sidewall to frame illuminated channel letters.
Channel Letter Coil Applications & Advantages
Channel letter coil features a number of advantages across a broad array of applications. Benefits of using channel letter coil signage include:
The lightweight aluminum is not only fire resistant and easier to install than steel, it is resilient enough to withstand harsher weather elements such as consistent exposure to sun, rain, snow, ice, and high winds, making it a prime candidate to resist corrosion from moisture or abrasion. Not only will your signage be long-lasting when made with channel letter coil, but it will also be cost-effective from manufacturing to shipment, and uniquely striking in appearance.
Because of the natural flexibility of the material, signs can be crafted to suit your business's individual needs, showcasing your choice of font, shape, size, color, and style. Working with pre-slit continuous coils makes custom ordering fast and easy. The lightweight material keeps shipping costs low and time efficient, shortening the window between ordering and installation—the sooner your signage gets to you, the sooner you can attract more customers. Channel letter signs are virtually indestructible, engaging, and affordable.
Learn More
Lynch Metals provides a material solution for virtually any signage application. At Lynch Metals, we keep over 38 colors in stock and can offer numerous options for custom fabrication of all your channel letter coil needs. The signage experts at Lynch Metals serve a wide range of business communities by providing materials for public information signage, high-end storefront signage, and eye-catching signage to best support the success of your business. Contact us or request a quote to get started on your store's channel letter sign today.