***SUBJECT TO AVAILABILITY***
At Lynch Metals, we focus on the sign and roofing markets. In the sign market, we stock over 36 color combinations in master coil form. By limiting ourselves to our raw material source and our coil coater, we insure that our customers receive a consistent product in terms of color, flatness, and shape.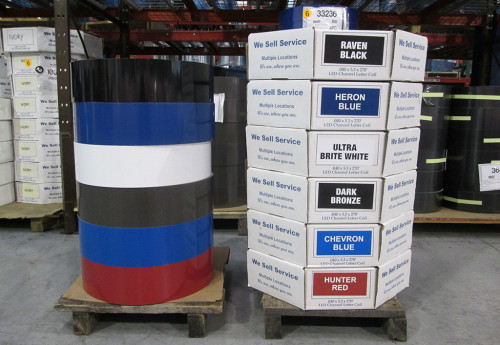 We provide painted product in flat sheet, coil, and blanks that are processed in-house on our specialized equipment. Channel letter coil can be shipped via UPS since all products are supplied as 70 pound coils that are packaged in individual, neutral cardboard boxes.
Coils can be vinyl masked to prevent scratches on the painted or mill finish surface. Each box is easily identified in your racks due to our color code markings and size description on the side of the box.
We recently installed a state-of-the-art blanking line that was specifically designed to our specifications. Custom blanks, complete with various rounded corners and hole diameters, are produced to your specific requirements. All blanks are vinyl masked to protect the painted surface in transit.
Our three cut to length lines, which are equipped with Herr Voss Levelers, will provide the flattest sheet available. We can hold +/- 1/32" on squareness and +/- 1/64" on length. All three lines have the ability to supply vinyl in line to protect the surface of each sheet.
The roofing and architectural markets utilize pre-finished sheet for end caps, soffits, and storefronts. Pre-painted and anodized sheets, as well as mill finish aluminum, are the main products used in the market. In addition to clear anodized coil and sheets, we also stock brite clear, brite brush clear, brite gold, and brite brush gold anodized coil and sheet.