For surface critical applications, our team at Lynch Metals has implemented three Rowe Cut-to-Length processing lines that are capable of cutting master aluminum or stainless steel coils between 10" and 60" in width and up to 30,000 pounds in weight. This line is specially designed to cut surface critical or extremely ductile materials, such as "O" temper annealed aluminum, which is difficult to level.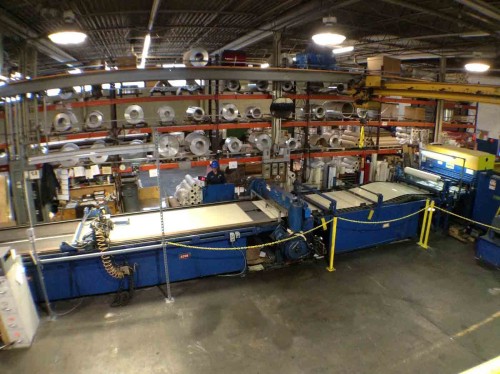 Our 60" Rowe Cut-to-Length Line is capable of cutting material between 0.12" and 0.188" in thickness to lengths between 15" and 192", with a minimum cut width of 10".
The tolerances that can be held during the cutting process depend on the length of the cut, with +/- 0.032" obtainable at the minimum cut length of 15" and +/- 0.054" at the maximum cut length of 240". Various protection methods, including paper interleaving and vinyl masking can be used to protect highly crucial surfaces from scratching during packaging, transport, delivery, and storage.
We also have the ability to stencil material to identify the alloy and/or the clad side of the sheet.
The customers we provide cut-to-length sheet to include OEM, Tier 1, and Tier 2 manufacturers in the aerospace and automotive markets. We also service customers in the signage, architectural, lighting, and industrial markets.
With processing and distribution centers anchored on both coasts, we are uniquely able to provide customers with the raw materials they need with minimal turnaround time and we carry both ISO 9001:2008 and AS9100 quality certifications.
For additional information about the capabilities of our Rowe Cut-to-Length Processing Line or any of our other processing capabilities, please contact us directly.
| Rowe Cut-To-Length "Quick Facts" | NJ Facility | CA Facility |
| --- | --- | --- |
| Gauges | .012" to .188" | .020" to .110" |
| Temper | All tempers including "O" annealed temper | All tempers including "O" annealed temper |
| Maximum Master Width | 60.000" | 60" |
| Narrowest Cut Width | 10.000" | 10" |
| Maximum Length | 240.00" (+/- .032) | 192" |
| Minimum Length | 15.000" (+/- .032)) | 15" |
| Maximum Master Coil Weight | 30,000 lbs | 10,000 lbs |
| Facility Specialties | Paper interleaving, vinyl masking, and stenciling available for added protection or to assist in identifying clad side of some products. This line specializes in processing surface critical, high reflective material in all tempers. Our 6" high Herr Voss leveler offers you the flexibility to purchase sheets to the most efficient size for your requirements. Custom size sheets with tight tolerance will reduce your scrap and handling time. | Paper interleaving, vinyl masking, and stenciling available for added protection or to assist in identifying clad side. |