Our slitting capabilities at Lynch Metals have recently been enhanced by the addition of a Chicago Slitter that is equipped with two 60" injector slitter heads. The injector-head design allows operators to switch coils quickly, significantly reducing changeover times. This increase in productivity allows us to process a higher volume of slit coils while meeting high quality standards.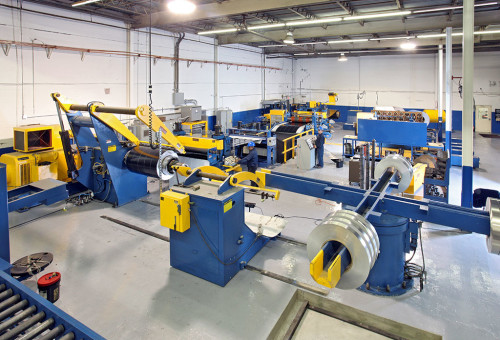 The Chicago Slitter can handle 30,000 pound coils and can slit between 0.015" and 0.250" thickness at speeds up to 1,200 feet per minute. By using shimless tooling, slit coils with outside diameters up to 60" can be produced with burr free edges and no camber, ensuring all material meets customer specifications every time. Coil can be wound onto cores with an inner diameter of 16", 20", or 24" to meet the needs of each customer.
Our comprehensive quality management program is both ISO 9001:2008 and AS9100C certified. By combining a wealth of metallurgical knowledge, extensively trained personnel, and advanced processing equipment, we are able to provide the best metal materials and customer service in the industry. These qualities are especially important when choosing a source for aluminum and stainless coils, as many defects cannot be seen until the coil is loaded for use.
If a coil contains edge deformities, wave, or camber, the entire coil may have to be scrapped, leading to costly downtime. Even if the vendor reimburses the customer for the cost of the coil, labor has been used in loading, unloading, and processing the rejected coil, and production deadlines can be missed. We truly understand the slitting and rewinding process, which is why customers in the most demanding industries have come to rely on us for their aluminum and stainless steel coil needs.
For additional information regarding our Chicago Slitter, or any of our other metal processing and distribution capabilities, please contact us directly.
CHICAGO SLITTER
IN
ID
MAX. OD
MIN. GAUGE
MAX. GAUGE
WIDTH
MAX WEIGHT
ALUMINIUM
20″
56″
0.0160
0.188
60″
30,000 LBS
24″
56″
0.0160
0.188
60″
30,000 LBS
STAINLESS
20″
56″
0.0160
0.125
60″
30,000 LBS
24″
56″
0.0160
0.125
60″
30,000 LBS
OUT
GAUGE
ID
MAX. OD
WIDTH
MAX. # OF CUT
MIN. SCRAP REQUIRE
MAX. COIL WEIGHT
ALUMINUM
.016 – .063
16″ / 20″ / 24″
56″
1″ – 60″
20
0.5
18,000 LBS
.063 – .125
16″ / 20″ / 24″
56″
1″ – 60″
15
0.5
18,000 LBS
.125 – .188
16″ / 20″ / 24″
56″
1″ – 60″
10
0.5
18,000 LBS
STAINLESS
.016 – .048
16″ / 20″ / 24″
56″
1″ – 60″
15
0.5
18,000 LBS
.048 – .090
16″ / 20″ / 24″
56″
1″ – 60″
12
0.5
18,000 LBS
.090 – .125
16″ / 20″ / 24″
56″
1″ – 60″
10
0.5
18,000 LBS