***SUBJECT TO AVAILABILITY***
No. 21 and 22 brazing sheet are typically used in Dip Brazing applications. No. 21 is one side clad and No. 22 is a two sided product, with each having a heat treatable core of 6951 and a cladding alloy of 4343.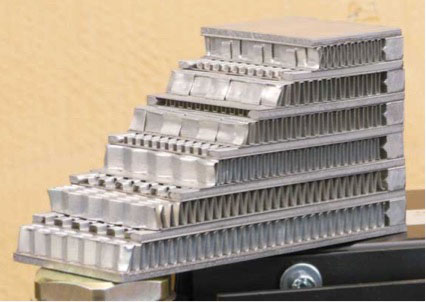 In Dip Brazing, air is excluded from the process since the parts are submerged in molten salt, thereby excluding exposure to air and subsequent oxidation. The molten salt functions both as a heat transfer medium and flux.
The typical application of dip brazed alloys No.21 and No.22 is for parts where strength is required. The 6951 core is a heat treatable alloy, providing additional strength and offering the opportunity to save weight by down gauging. Many of the dip brazed parts find their way in heat transfer applications for the aerospace industry.
Lynch Metals has the largest inventory in the world of these Dip Braze products. The material is stocked in both its Union, NJ and Anaheim, CA facilities in gauges ranging from .020 through .190.
Brazing Sheet Items
No. of Sides Clad
Core Alloy
Cladding Alloy
Nominal Cladding Thickness Per Side (Percent of Composite Thickness)
Optimum Brazing Range (°F)
Optimum Brazing Range (°C)
No. 11
1
3003
4343
10% for .063" and less
5% for .064" and more
1100 – 1140
593 – 616
No. 12
2
3003
4343
10% for .063" and less
5% for .064" and more
1100 – 1140
593 – 616
No. 21*
1
6951
4343
10% for .090" and less
5% for .091" and more
1100 – 1140
593 – 616
No. 22*
2
6951
4343
10% for .090" and less
5% for .091" and more
1100 – 1140
593 – 616
No. 23*
1
6951
4045
4045 10% for .090" and less
5% for .091" and more
1090 – 1120
588 – 604
No. 24*
2
6951
4045
10% for .090" and less
5% for .091" and more
1090 – 1120
588 – 604
No. 33
1
6951/td>
4044
10% for all thicknesses
1100 – 1135
593 – 613
No. 34
2
6951
4044
10% for all thicknesses
1100 – 1135
593 – 613
No. 44
2
6951
4044/7072
15% 4404 one side, 5% 7072 other side
For all thicknesses
1100 – 1135
593 – 613
*In some instances these brazing sheet alloys can be used for vacuum brazing